Fundraisers
Submissions
Main
Directors and Volunteers
Events
Free Zine Periodical
HEY YOU Periodical
Templates
TRIANGLE NONPROFIT
PUBLISHING INC.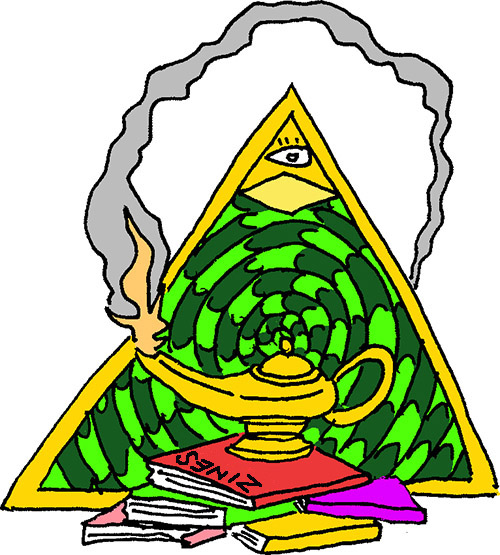 Please donate today to help our mission of nonprofit art and literary publishing!









In 1973 The Trilobite Press was founded in Denton, Texas by Dr. RIchard Sale, Professor of English, University of North Texas. In 1982 in cooperation with UNT The Trilobite press sponsored a series of poetry readings. Each reading was accompanied by a publication by The Trilobite Press of the poet's work in a run of 400 signed and numbered handmade "chapbooks" books, or literary poetry zines. The series began with the reading of a poetry zine from Del Marie Rogers and went on to host many poets who would go on to great literary success, including Naomi Shihab Nye, Who has received awards from both the Texas Institute of Letters and International Poetry Forum, B.H. Fairchild, who won the Kingsley Tufts Poetry Award, and Albert Goldbarth, who won the National Book Critics Circle Award. In 1997 The Trilobite Press would also publish a series of short fiction zines, also in cooperation with UNT. Copies of each Chapbook, or literary zine, reside today in the UNT rare books room. With the purchase of The Trilobite Press in 2022 by Triangle Nonprofit Publishing, a 501c3 public charity, it was discovered some limited stock from these zine runs still exists, and it will be a pleasure to show some of it to you in the coming year! We'll also have a very limited number of decades old signed and number literary zines available exclusively to our generous donors. In 203, as The Trilobite Press turns 50, this historic literary press will be relaunched as an imprint of Triangle Nonprofit Publishing to the end of accomplishing to the end of furthering our charitable mission of nonprofit art and literary publishing! In order to keep the new books produced by this imprint in line with the quality and importance of its previous publications, Dr. Sale will stay on indefinitely as the imprints editor-in-chief emeritus to officially oversee all content!



We have a slick new website guys! Check it out! We'll still be hosting out templates and educational resource stuff from this website, but we also have a nice new donor front end at WWW.TrianlgeNP.org!







Wow! Our first ever second annual anything is coming up and I'm super excited to announce it's our FEAR ZINE II free zine workshop! We've been doing these for a full year now putting out thousands of free zines, and basically the deal is we have a bunch of vintage copiers the public donated, and a bunch of templates and a big fat how to book we put together, that we use to live edit a zine (or small handbound paper book) from art as it's created at the workshop,which we then print and bind by hand to later distribute for free to the public, both at live events and at pick up locations as far away as we can get them. In order to continue this awesome free program, we do need your financial support- for instance we can't currently afford to do all this for free AND pay to ship the finished zines around the country to everyone we'd like to, and we're just the cost of some stamps away from being able to do that, so at this point every little bit seriously helps expand this program. Make a donation via the Paypal link below, or on our Facebook page or donate directly to our Venmo (which bares the same name as our instagram account) @TNP_CHARITY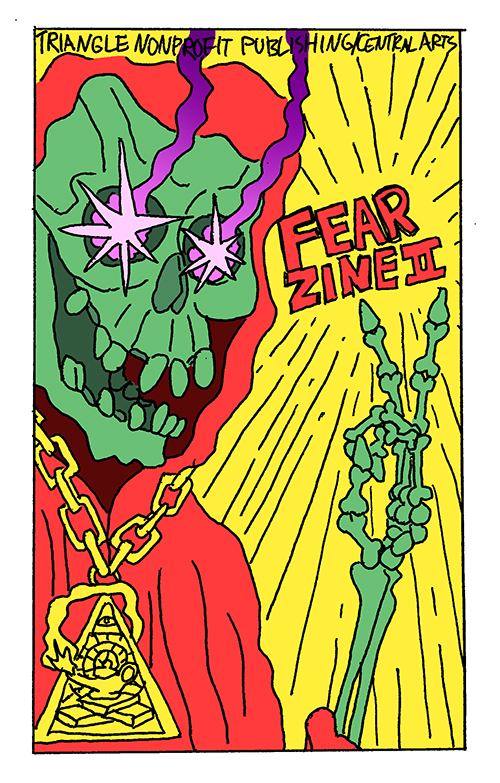 Thanks so much for your continued support and involvement as we enter the second year of our super successful FREE ZINE program! Check our events page or use the template provided to make a submission online or donate today to get involved!!!




Triangle Nonprofit Publishing is a tax exempt public charity founded in Texas in 2021 to promote art and literature through nonprofit publishing and support other tax exempt nonprofit organizations. We subsidize and publish art and literature from the general public, and all of our proceeds other than creator royalties go to support our nonprofit publishing efforts, in addition to conducting free public workshops where we create open anthologies to be distributed for free.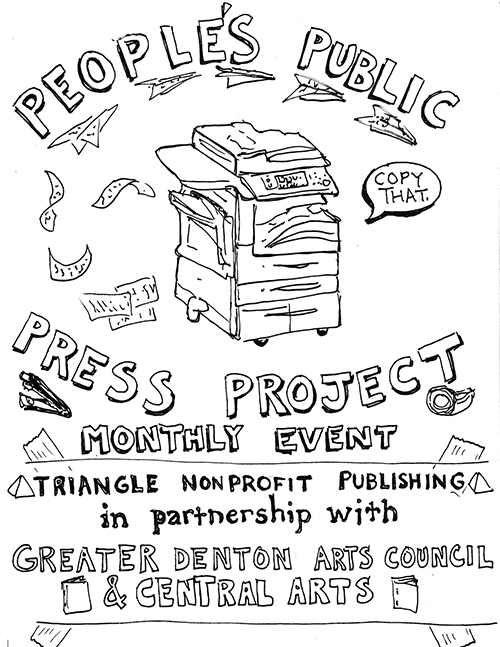 WOAH! Our FREE ZINE program has distributed 700 free art anthologies this month, and is expanding to the Patterson-Appleton Art Center in Denton, TX! We'll be meeting weekly as a satellite workshop for our ever fancier FREE ZINE anthologies we're producing at Central Arts, as well as kicking around themes and ideas, and prodcuing our own mini anthologies, or stand alone zines.

Participants can choose to get their creations printed and distributed for free, or leave with their finished templates and reproduce their own sellable zines to supplement their current art show stock, or pan-handle, or whatever.

Check our events section for information on free upcoming workshops!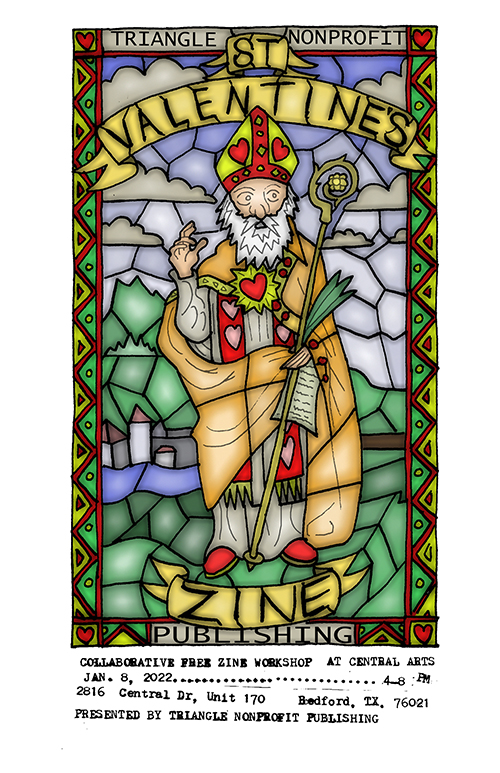 Wow we did it! 500 times! The Triangle Nonprofit Publishing St. Valentines Day Zine presnted in partenership with Central Arts is finished, free as always, and available SUPER EARLY at select nonprofits!!! You can grab a copy right now for free at CENTRAL ARTS in Bedford, Texas, or at Greater Denton Arts Council in Denton, Texas!

Check back soon for more exciting news and events and upcoming publications and further FREE ZINES, and please make donation to make our mission possible! Thank you all so much for your continued support which has gotten us this far!!!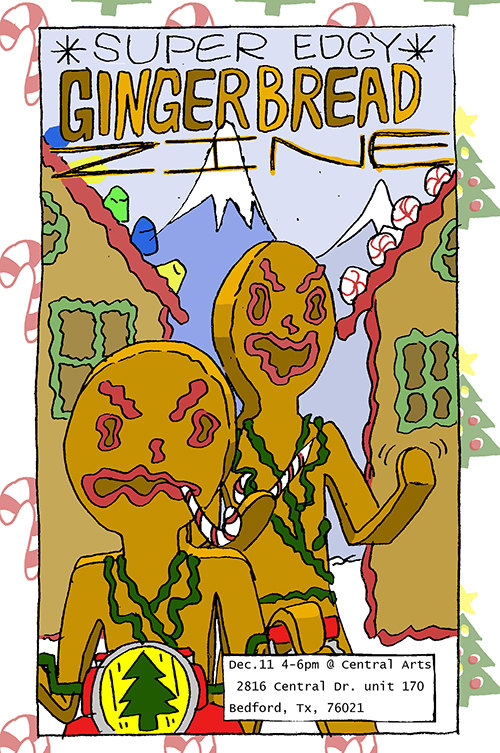 OUR THIRD FREE PUBLIC ZINE ANTHOLOGY PARTY! Over four hours we'll be creating and reproducing a free hand bound gingerbread themed open public anthology! The theme is loose, but the art is going to be all black and white line stuff again. Template available on our website for those of you who might want to get started early or can't attend in person. This event and participation in the anthology is open to anyone, and we'll do our best to make sure we include everyone who contributes!






Wow! We had an amazing turnout at our second public anthology zine event! We managed to create 16 original art pages with 11 creators, edit, format, and reproduce them in four hours, all on a 20 year old photocopier, for a total run size of just over 200! We also cut our power consumption and waste output by 90%! We may have actually saved the planet! There are a limited number off books available at both The Bearded Monk in Patchouli Joe's in Denton, and at Central Arts in Bedford. We're working hard to nail down an exact date for our next free public anthology event, but it's going to a *SUPER EDGY* GINGERBREAD ZINE, sometime in December at Central Arts in Bedford, so look forward to that! Please donate today to make further FREE ZINES possible!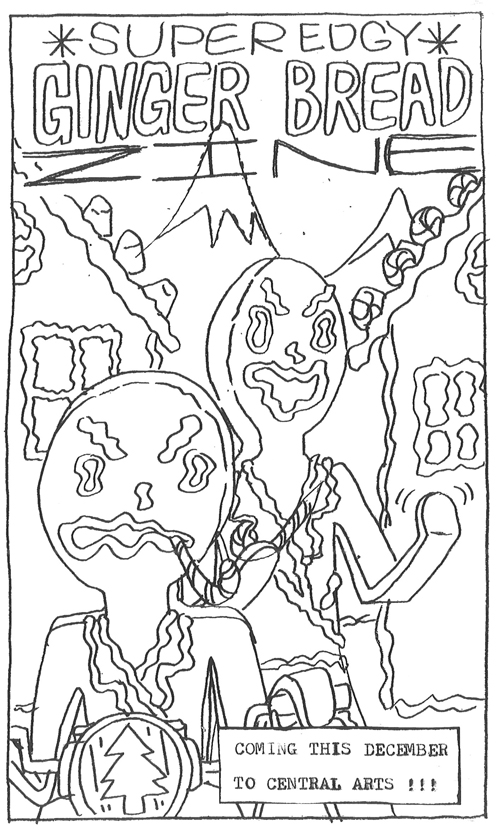 We're at it again with Central Arts! We'll be making another SICK public anthology free zine with a run of around 200, this time focuising on Thanksgiving with a heaping side of food insecurity! We'll be using the same processes and template as 'Fear Zine', so feel free to find those below, and as always if you're not able to attend in person we would love you to make a submission online with the template provided!






Wow! That's a wrap on Fear Zine! We had a great showing of volunteerism and community involvement, and we even managed to raise some money for nonprofit publishing as we produced and hand bound 130 books over about 4 hours, featuring work from some really cool artists in the Bedford area.


You can pick up your own copy for free at any of our events this October, or get one at Central Arts while supplies last. Thanks so much to all of our volunteers, participants, and donors, as well as the fine people at Central Arts for making this free workshop a possibility!


Be on the lookout for more free seasonal photocopy zines in the near future!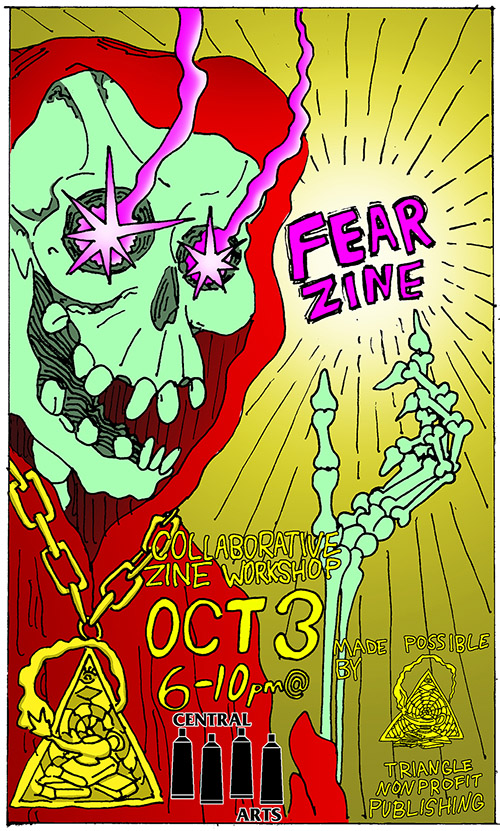 I'm super excited to announce our fear zine collaborative zine event! Well, we all are, but I specifically am super jazzed about it. Why? Well, I think we'll be able to thematically unite some fun and diverse locally sourced content with a retro photocopy aesthetic, and make something really cool.


Initially we'll be hand binding a free zine to be distributed locally, but eventually we'd like to create a low cost deliver-and-print mass market paperback. While the artist release covers both instances, at the moment I've only gotten official approval for the zine edition, and it's very likely if there is a mass market paperback version produced, it wouldn't be available until next year. In that case any proceeds would go to pay for a contributor copy of the book for each contributor, and then to fund further nonprofit publishing projects like this one. It doesn't represent a paid opportunity for contributors, as it's going to cost money or barely break even rather than make money, but it does offer real exposure in the form of free distribution, and experience participating in the publishing process.


In the interest of inclusion, you can actually make a submission for FEAR ZINE via email, with the template supplied below. (it's a 5.5x9.25 in rectangle with a .75 magrin and it's at 300 ppi resolution, please send a maximum quality jpeg) please read the instructions, the image needs to be monotone and you'll need to consider the bleed that's going to be added after it gets photocopied a couple times during the reproduction process. There's never any fees or anything associated with submissions, but you do need to complete the appropriate release in order for your contribution to be considered.


I'm gonna go ahead and launch into the technical aspect of this project, but i'll also be going over all of this in person at the event on october 3rd.


This is a monotone process, so all colors will be represented as either 100% black or white. This means all shading needs to be done via stipple or hatching, but cross hatching will bleed out into a solid black area, so ideally to accommodate the "burn" of the copier, lines need to be placed no closer than 2 or 3 line widths away with a line weight of 7mm.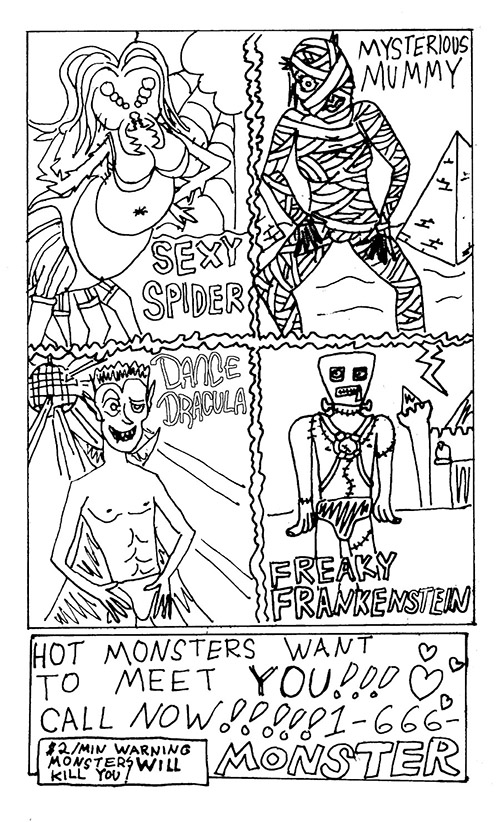 The image above shows areas like the mummies fingers where the lines bled together. This looks bad, but more importantly will generally cause problems with the print run, because we're doing it all on printing on a 20 year old desktop document copier. Notice some of the things i do to show shading, and brightness. Stippling also works, but just like hashing it need to be less dense than 30%, and the same is true with halftones, which need to be no larger than 7mm and no closer together than 14mm on the template provided.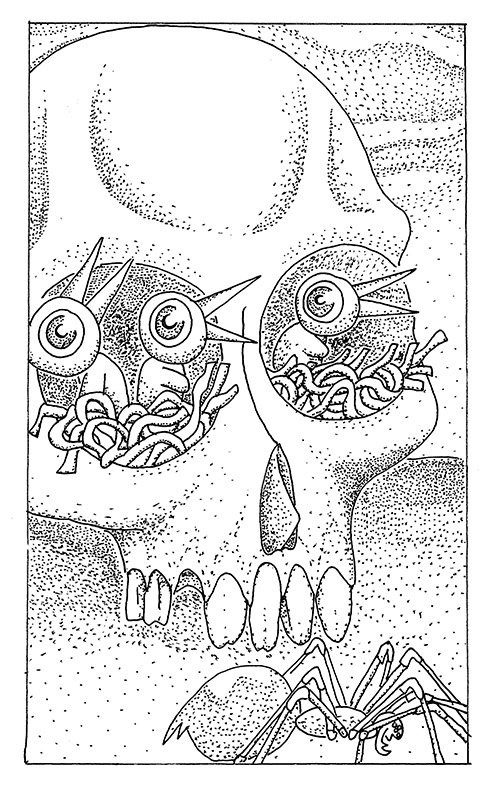 The template *should* print to a roughly 9.25 x 5.5 in rectangle, with a margin around it. When copied at 80% this will yield the appropriate size for a half sheet zine, with a little less than one quarter inch shaved off the open edge to square up the corners and edges of the pages. If you want to get out a ruler and make your own template, that's awesome, unless you want to email it to me, then you should import it into the template and make sure it's the right size and resolution.


We're looking at creating, hand arranging and then photocopying, folding, stapling and trimming between 100 and 150 super awesome retro monotone zines for free local distribution.


If you'd like to start on your contribution early, feel free to do so if you can't make it but would like to make a contribution, feel free to make one, and scan it and submit it in high res jpg format (the printable template the appropriate pixel count but please make sure there is no compression on the jpg) along with the appropriate release to at our website www.triangle-nonprofit-publishing.org under the subject line "fearzine submission" and we'll do our best to get it in, but we will be including the work of attendees first, and will have upper threshold of about 60 pages with this staple-back binding process before we have to start a second volume.


I know all of this seems complex, that's why we're having a workshop. I'll also have a bunch of crazy zines from all over to draw inspiration from. It's our policy to always make available a copy of each book to each contributor free of cost, and never create financial barriers to publication, so even if you can't make it by, if you'd like to participate, please submit a templated image in accordance with the specifications along with the appropriate release, and if your work is included in this or future zine compilations, we'll make sure to make a copy available to you.


Sign up for our newsletter!

We're super excited to announce our second release, Words Collected & Arranged by AHK! Completely publicly funded through small donations, Words Collected & Arranged by AHK is a 56 page book of found/collage poetry, ripped directly from the pages of his long running OFF WHITE Zine series! Available in paperback on amazon NOW for just $13! A bargain at any price! The finest plunder of humanity's conquest of the printed word!


It's this sort of stuff, and we're all very proud of it.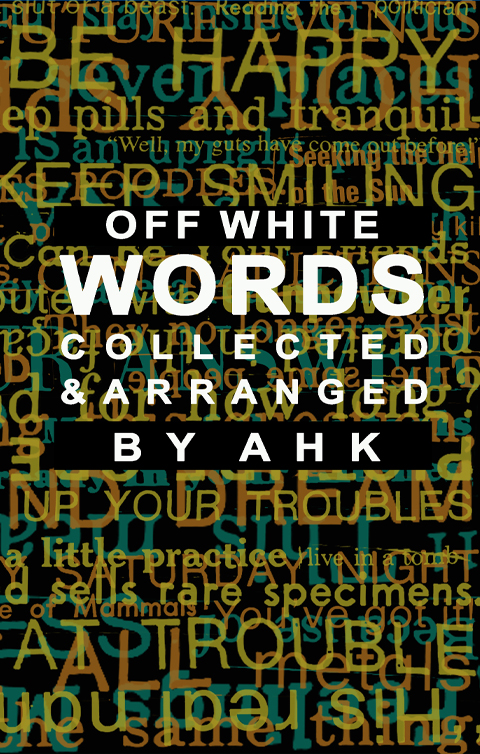 Click the image to grab a copy now OR come out to Ft Worth Zine Fest at Doc's Records Aug 1 and get a copy and meet the amazing creator themselves, AHK, in person!


We are proud to announce our first book, available on Amazon now, "Adultlings +" by AHK!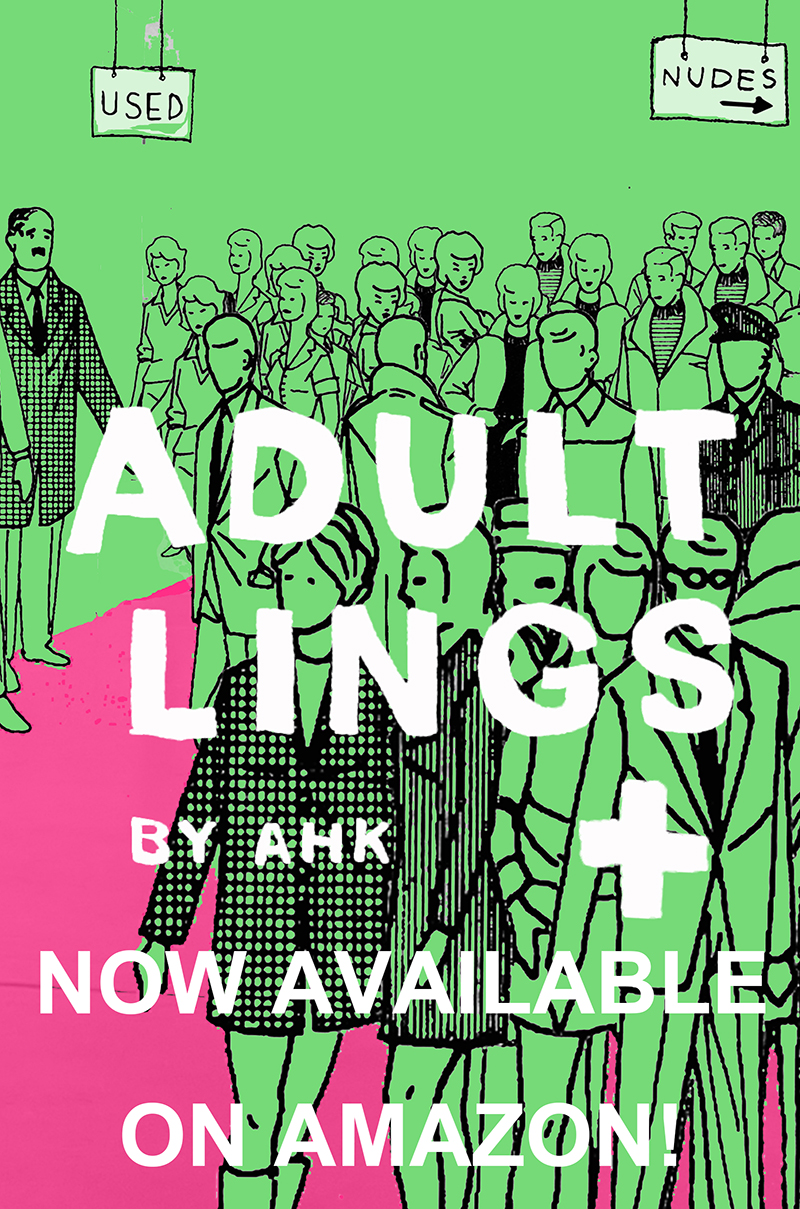 "Adultlings +" by AHK contains the Broken Pencil Zine Award nominated comic Adultlings, as well as 5 more of artist author AHK's best loved comics from his long running Off White zine series: "Undefined," "The Show," "Pictures of Yomoma," "Skyhorses," and "Jibcutters." Coupled with another anthology title by AHK to be released through Triangle Nonprofit Publishing this fall, "Words Collected & Arranged: Expanded Edition", "Adultlings +" by AHK perfectly captures the type of zine work we think the public at large is missing out on most. Subtle, humorous and deeply thought provoking the comics in "Adultlings +" find their subject matter in a stunning amalgam of the mundane and the metaphysical. Please buy a copy today and support our mission of nonprofit publishing!

You can also sign up for the ongoing handmade Off White zine, available exclusively from the artist himself. It may seem strange for a publisher to suggest you buy handmade books directly from an artist author, but these books are themselves original art, laboriously hand bound and cut by AHK, often including original screen printed covers and available in extremely limited edition.





What are these zines we keep talking about?! Well, get ready for a crash course in zines from our current editor-in-chief, author of "Mermaids and Other Monsters of the Sea" and the long running "Tijuana Acid Party" and "Balloontown Mysteries" zine series!

Howdy! I'm M.R. Bartels, president, founder and acting editor-in-chief at Triangle Nonprofit Publishing Inc. Before I lecture you, I will just say, I'm NOT the most qualified person to speak on this, and I can't even say for sure who is, but I'll do my best. However, I must warn you: I've spent the last five years in the underground publishing world, I've collected and traded for contemporary zines from all over the world and I think I'm some kind of an expert on the topic, and nothing clouds objectivity like expertise. I'm only gonna cover the past 40 years for brevity's sake, but it goes back further than that.

To start in etymology, "zine" is derived from magazine but the use of the word "zine" modernly is derived from the word "fanzine." Fanzines were photocopied or cheaply printed, almost always black and white, indie magazines usually distributed by the same semi-professional journalists who created them. Before the internet, if you went to lots of shows and talked to lots of bands (or wrote essays on Lord of the Rings, or compiled poetry rejected from academic presses, drew obscene comics, or literally whatever you can think of) the only way to get that material to an audience was to print and distribute it. Many fanzines were free to the reader, some containing paid advertising or sponsorship for associated businesses or other fanzines, and some enjoying readership in the low thousands, but generally fanzines had circulations of under a thousand, and in practice many had print runs of less than a hundred.

With the invention of the internet, blogs, and "fan sites", fanzines were rendered totally obsolete. Color photos could be shown with no cost to print, you didn't have to get record shops or whoever to make space for the physical books, and fan sites could generate online ad revenue with hard viewership and engagement metrics instead of having to beg to sell ads in what was seen as a niche form of underground media. Instead of a stream of printed content, fan sites presented an ever growing library of content, deliverable at a much lower cost to the creator and with much better returns.

But zines are fun- and so after the fan zine dies and literary web forums mostly replace literary zines, art and activism zines still thrive, and the Riot Grrrl movement starts, and brings DIY zines to the forefront of underground women's publishing, combining elements of punk culture and third wave feminism. Around the time in home copiers became so common people would give you an old one just to get rid of it, circa y2k, movements like Riot Grrrl had cemented the photocopy zine as an art form and the zine made a broad comeback. The retro feel is cool, and the nostalgia marketed well to people who hadn't seen a zine since the early '90s. Oh wow a zine, they'd say! I used to make zines in college! Some break out artists emerge- some people seize on the photocopy and bootleg elements in zines and make a lot of money and then sell out super hard.

By 2010 I could see four types of zine floating around. Social justice zines- very much in the same vein of what the feminist zine movement of the 90s was about, but also incorporating broader themes such as lgbtq+ acceptance and later Black Live Matter; art zines- zines comprised entirely of individual art pieces, sort of like a published portfolio, sometimes with a theme but almost always lacking the sort of captions and arrangement you'd find in a professional art book; Comic zines- usually very short, hand drawn comics by a single artist; and literary zines- books of flash fiction or poetry, often presented with non standard layout, but sometimes attempting to mimic mainstream form. Obviously there is and should be overlap between these types of zines, and while they are all united by a DIY art style in some cases, in the past decade the availability of high quality color copiers and free art software has led to some extremely colorful and interesting looking zines of all stripes that are a very far cry from a single photocopied page of ink line drawings folded 8 ways and called a book. As technology advances, full size 300 dpi professional quality print files are easier and easier to make with less and less equipment, and low cost high quality color laser printing becomes more and more available, this trend will only continue. Who can say where it leads, movement wise? We won't be able to say until it's all in the past, but in my opinion it leads to full color oversized "Mega Zines" like my own Mermaids and Other Monsters of the Sea (available now on Amazon with all the proceeds benefiting Triangle Nonprofit Publishing) that seek to integrate social justice themes with literature, and diy style zine art with super vibrant colors (almost as if someone was making up for a whole career of publishing in black and white on a photocopier in their garage)

Flash forward to 2020 and there are multiple deliver-and-print services and online retailers making use of this technology to enable creators and leverage publishers, but an unintended side effect has been the legitimization of a pay to print vanity publishing model and pay-to-publish author services model, and ofcourse the horrible effect it's all had on bookstores, especially small independent bookstores. Anyone who knows what's up knows publishing is in crisis, but most of the market influences that have been so destructive are also generally good. Technology and market shifts may be giving big publishers a run for their money and opening the door to a host of skeezy business models that were, in decades past, almost universally seen as predatory, but it is actually enabling creators and small and independent publishers by massively leveling the playing field for them to compete on a global level with billion dollar publishing houses. It is indeed a chaotic time in publishing.

It will take a generation to build the next generation of publishing houses, and once that happens the market will heal and traditional publishing options will be more available than ever, however in my opinion, in the world of "everyone can fairly easily find a niche publisher and put out a book in some form or another in a professional produced way" the place for the six figure advance may be gone, but so also may be the content mills where where talented authors and artists are worked to death writing on formula or tracing to pretend to be someone else the publisher's marketing team is heavily invested in. It's possible, as it's been suggested, that if in the future, everyone will be famous for exactly 15 minutes, we'll end up with a publishing market that's much wider, but with shorter tent poles. Things will be different, but they will be better for most, and while it's still early in the game, it's not too early for Triangle Nonprofit Publishing to get involved and lead by example with fair practices and a vision that looks forward to new technological advances without abandoning the practice of supporting our contributors in favor of charging them.

Please donate today to help our mission of nonprofit art and literary publishing!



Copyright © 2021 Triangle Nonprofit Publishing, Inc. All Rights Reserved.
Triangle Nonprofit Publishing is 501c(3) nonprofit art and literary publisher founded in Texas in 2021 which exists to promote art and literature and fund charitable organizations through nonprofit art and literary publishing